Ultra HD TV
Sonance
Project Solution
The New Technology of
4K Ultra High Definition TV
What is 4K Ultra HD TV? 4K Ultra HD TVs offer four times the resolution of 1080p HDTVs (twice as many pixels in each direction, horizontally and vertically). The decreased pixel size of 4K UHD TVs dramatically improves picture clarity. Meanwhile, 4K Ultra HD's deeper, broader color palette makes everything you watch more vibrant and lifelike, giving you a phenomenal viewing experience.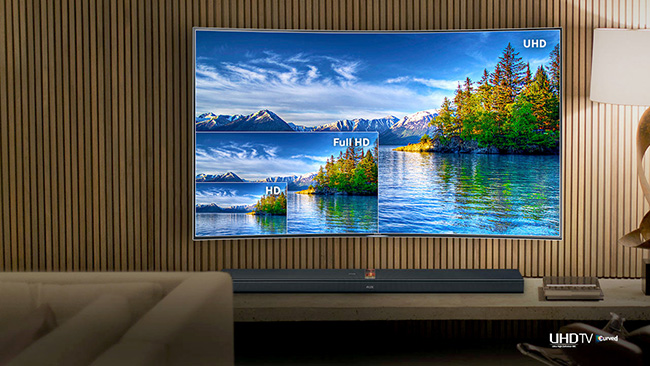 4K Ultra HD TV Technology
The technology for 4K Ultra HD TV had to be developed from scratch. So not only did manufacturers need to build a video device capable of displaying the higher resolution, they also needed cameras that were able to record the content. A camera manufacturer called RED built a camera that can shoot video with the higher bit rate required to capture 4K UHD TV's finer resolution and broader color gamut. Resolution is made up of tiny picture elements called pixels. The pixel count for 4K Ultra HD is 3840 x 2160, compared to 1080p HD at 1920 x 1080. (The "4K" that Ultra HD TV is paired with represents an approximation of the horizontal pixel count.)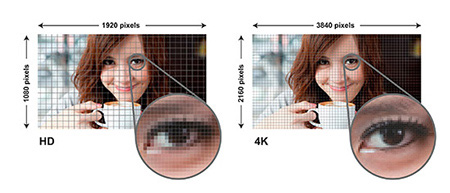 How can they fit all those pixels into one screen? Special cameras, like the one developed by RED, are used to record a movie or TV show in 4K Ultra HD TV. The content is then electronically compressed to allow the large amount of data to be transmitted more efficiently. An advanced processor within the TV receives the compressed data and restores it to its original 4K UHD TV format for display. Even with lower-resolution signals like 1080p HD, your 4K Ultra HD TV can upconvert the resolution, intelligently filling in the missing pixels to create the Ultra HD experience.
What Does OLED Mean?
4K Ultra HD TVs are already available with LCD and LED displays, and now we'll begin to see them with OLED (organic light-emitting diode) displays, as well. The OLED option will arguably provide the best possible picture. OLED technology is lightweight, superthin and gives you crisp, vivid color from wider viewing angles than either LED or LCD displays.
How 3D Works with 4K Ultra HD TV
Most 4K Ultra HD TVs include support for 3D that looks better than ever. Passive 3D technology is widely used by 4K UHD TV manufacturers because each eye will see a full 1080p image. With a full 1080p picture for each eye, you experience greater detail and less eye fatigue. In addition, passive 3D glasses are lightweight and cost much less than active glasses.
Finding the Right Cables for 4K Ultra HD TV
The primary factors affecting an HDMI cable's ability to provide a picture are the amount of data being sent and the length of the cable. 4K Ultra HD takes up much more bandwidth — four times as much, to be exact. This means the cable needs to handle four times more data, and your picture quality will diminish with the length of your cable. HDMI cables still play a vital role in your 4K Ultra HD home theater, which is why choosing a high quality cable will make a big difference.
What Does the Future of 4K Ultra HD TV hold?
One of the best things about 4K Ultra HD TVs is they can upconvert your current HD picture to near 4K UHD for a phenomenal viewing experience. While the amount of "true 4K" content is now limited, that will begin to change rapidly as more 4K Ultra HD TVs enter the market.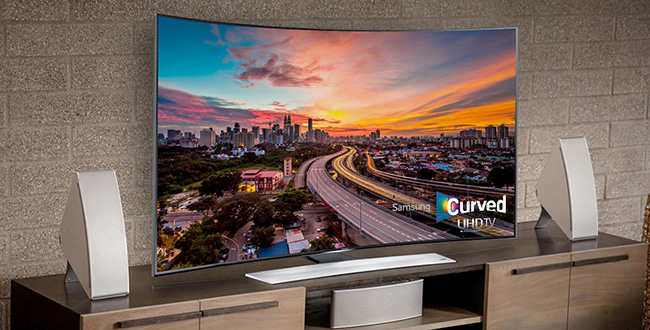 The advancement of Ultra HD cameras provides the opportunity for many more TV shows and movies to be recorded and edited in 4K Ultra HD. Also, starting in May, 2013, a number of Sony Pictures Blu-ray discs optimized for 4K Ultra HDTVs (labeled "Mastered in 4K") became available, and more have followed since then. And if you have a camera that shoots 8 megapixels or more, you're already recording 4K Ultra HD content.
Because 4K Ultra HD uses more bandwidth, it will take some time for broadcasters to catch up. A few networks around the world are starting the trend, such as a network in Europe called EUTELSAT that is broadcasting via satellite in 4K Ultra HD. And DIRECTV has already trademarked five different 4K Ultra HD channels; 4K, 4KN, 4KNet, 4K Network, and 4KNetwork.
---
A Little More Information...


Just What Is LED and OLED TV? LED TVs are very similar to existing LCD TVs. The difference lies in how the screens are lit. While traditional LCD TVs use florescent backlights, LED TVs use smaller, more energy-efficient LEDs. Though LED TVs are slimmer than traditional LCDs, the need for backlighting still makes LED TVs larger than they could be. While LED screens produce great color, the brightness of the lights can also wash out blacks on the screen.
OLED TVs have elements that generate their own light and don't require an extra lighting source. Their screens can produce vibrant colors by drawing on electrical current, and don't need active current at all to produce a true black color. This means thinner sets, better blacks, and lower energy consumption.
What's the Right HDTV? Which TV is right for you in the LED vs. OLED showdown? The biggest determining factor right now is price. Because OLED TVs are new on the market, expect them to run at least two to three times the cost of today's LED TVs.
If you are shopping in a price range that includes both, other considerations are viewing angle quality, power consumption, and picture contrast. OLED has the advantage in all these categories. Here's why it may pull ahead in the LED vs. OLED matchup.
LED screens suffer from reduced picture quality if you sit too far to one side or if the TV is too high or too low relative to your eyes. OLED TVs don't suffer from these issues.

The power draw of OLED TVs is less than LED TVs when you're watching TV and movies. LEDs must light the entire screen, while OLEDs just light up the parts of the screen that need it. On the flip side, if you are surfing the web on your OLED TV, sites with a lot of white on the screen will cause your OLED to draw more power than a comparable LED TV.

Finally, picture contrast is a big concern. Due to how LEDs shine light behind the screen, it's difficult for the set to display deep blacks. Some sets offer automated dimming across parts of the screen, but that can create light that leaks into dimmed areas and other uneven lighting issues. OLED TVs can individually turn off the parts of the screen that are supposed to be black, leaving very vibrant colors in contrast.
Sonance
Sonance takes entertainment to a whole new level with a range of purpose-built products that are specifically designed to bring out the best in movies, gaming, concerts and multimedia content. From family rooms, living rooms and great rooms, right up to dedicated home theaters; Sonance surround sound and cinema products deliver exhilarating sonic performance without compromising the design cues of the space.
Home Theater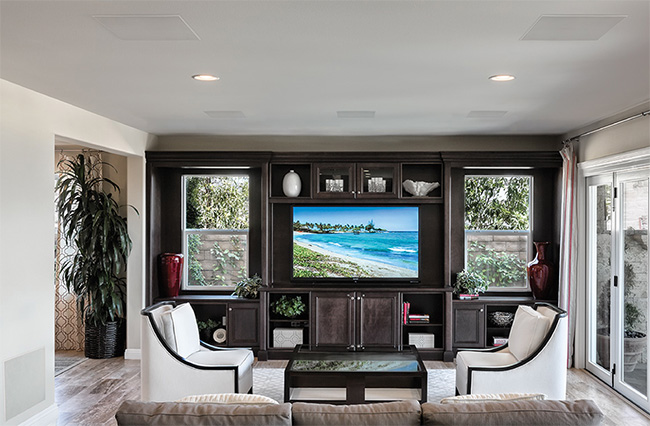 Visual Performance Cinema Series Built on the award-winning aesthetic of Sonance Visual Performance Series, this range of purpose-built home theater speakers deliver amazing sound quality while featuring a low-profile aesthetic that is consistent with other speakers throughout the home. Integrated cabinets ensure exhilarating performance while also minimizing disturbance with adjoining rooms. Mix and match to achieve the ultimate result in any room or construction type.

Purpose-built for the ultimate sound. Sonance Visual Performance Cinema Series speakers are purpose-built to deliver a Hollywood-at-home experience. Unique design features such as angled drivers, coaxial midrange and tweeters, along with dual and quad 5 ?" woofers will bring out the very best in movies, concerts, gaming and multimedia content.

Material matters. The Visual Performance Cinema Series utilizes state of the art driver materials (Carbon Fiber and Rohacell) to deliver tight punchy bass and crystal clear dialog; the key to achieving home theater sound that is both natural and exhilarating.

Integrated cabinets for amazing sound. Sonance Visual Performance Cinema Series in-wall and in-ceiling speakers feature an integrated cabinet design that ensures optimum sonic performance, while reducing sound transfer into any adjoining rooms.

Consistent aesthetic Sonance Visual Performance Cinema Series in-wall and in-ceiling speakers share the same award-winning low-profile grille design as the rest of the Visual Performance Series family, creating a consistent aesthetic throughout the home.

Match the wall or ceiling color with a one-piece paintable grille that allows for a one-step painting process. This ensures a high quality result is achieved along with accurate color matching of the adjoining wall or ceiling surface.
James Loudspeakers
Outdoor Landscape
James Loudspeaker landscape systems have the following attributes
All speaker drivers, enclosures, networks, sub ports, and accessories are designed internally by James engineers.
Assembly is done in the Napa CA facility.
Highest quality enclosures built from aircraft grade aluminum for both satellites and subwoofer boxes.
Satellite speakers are available in both 70 volt and 8 ohm designs. In addition, they are available in 15 standard colors with custom painting done upon request. Completely custom boxes and speaker designs are available upon request. Custom designs comprise 20% of the garden product the we ship.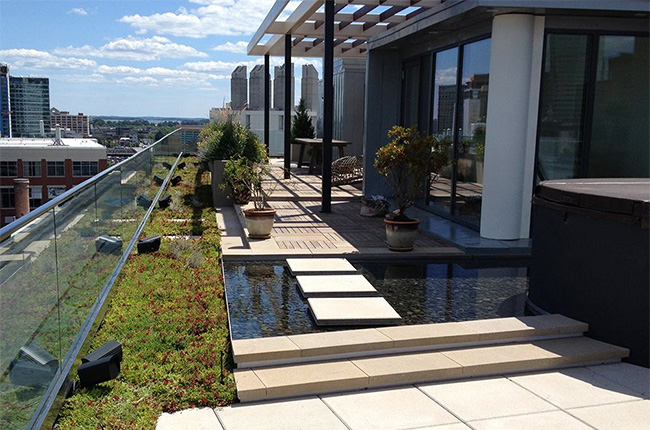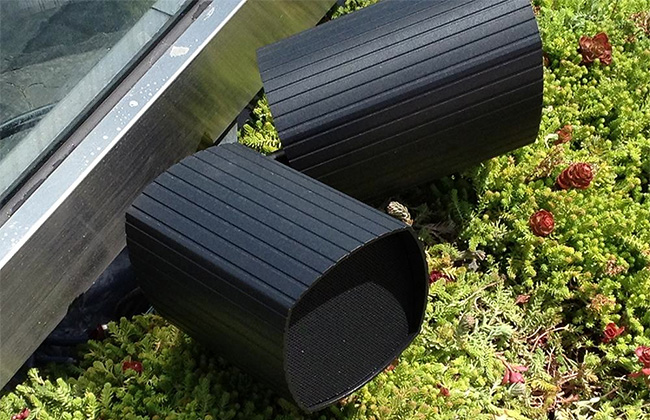 Chagrin Falls Methodist Church
Since its founding in 1844,rolex replica watches the United Methodist Church of Chagrin Falls has provided a vibrant Christian experience in the heart of Chagrin Falls.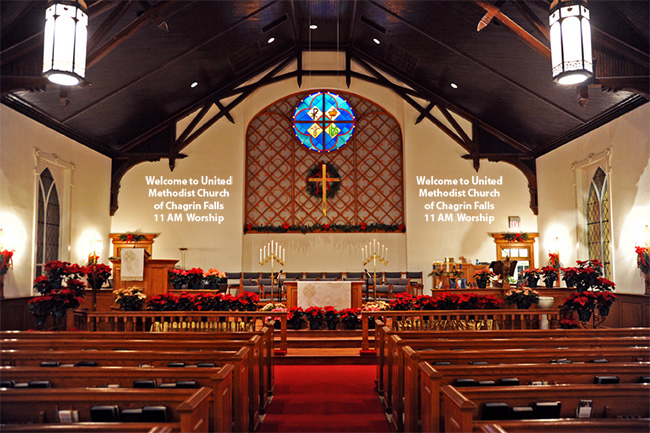 Projection and Speaker System Equipment and Installation for the Sanctuary
provided by Entech Media Systems In 2014

Why Panasonic Projectors
Reliability: Comes from technical know-how of 30 years of projector engineering and manufacturing, and guarantees the highest standard of quality.

Picture Quality: Panasonic delivers un-compromised picture quality backed by R&D based on innovative imaging technologies and collaboration with Hollywood specialists.

Ease of Use: Panasonic projectors are created with easy operation in mind, and designed throughout with user-friendly features.

Flexibility: A wide-ranging lineup and flexible features ensure that Panasonic projectors satisfy a host of installation and operation needs.

Solutions to IT/AV Managers' Questions


Managing many projectors is a lot of work. The daily task of operating and managing many projectors installed in a building -- from confirming that the power has been turned off at the end of the day to taking care of equipment problems -- is time-consuming and laborious. If projectors malfunction, it becomes even more troublesome, especially when there are different brands of projectors and different support offices must be contacted.
Multi Projector Monitoring & Control Software, which is provided free of charge, lets you manage all Panasonic projectors installed in both small classrooms and large halls with a single PC, when they are connected to a LAN network. The software lets you turn off all of the projectors in a single operation and monitor their operating status for efficient operation and management. Also a computer's web browser can be used to operate individual Panasonic projectors over a LAN network. All Panasonic projectors are equipped with a function that sends an alarm message in the event of an equipment problem. This enables a highly efficient management system.

All Models Support Network Functions
Panasonic projectors can be connected to a LAN network for centralized management using a single PC.
Want to minimize the TOC (Total Cost of Ownership):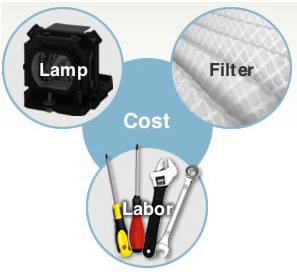 If you uses many projectors, the costs of parts and labor for replacing projector lamps and cleaning or replacing filters can be significant. If many different projector models are installed, the management of spare lamps becomes a cumbersome task as well. Replacing an old projector can also cause additional and unexpected costs for installation and cable extension work, depending on the projection location.
Replacing lamps in a ceiling mounted projector is cumbersome and having to remove the projector to replace a lamp is inefficient.

Ceiling-mounted projectors are usually selected for permanent installation in classrooms and seminar rooms. To replace a lamp in a ceiling-mounted unit, conventionally, the projector must be removed from the ceiling and brought down. This means extra time and labor.

With Panasonic Projectors, lamps can be replaced without removing the projector.

.

In all Panasonic projectors, lamps can be accessed by simply removing a screw from the rear panel. So, you don't have to remove the projector from the bracket or pull it out of a rack to change a lamp. Whether mounted on the ceiling or stacked, Panasonic projectors simplify maintenance and save costs.